Holika Retail
Integration of Bitrix24 with 1C:UT, setting up business processes
Field of activity:
Wholesale cosmetics marketplace
Bitrix24 version:
1C-Bitrix24: Corporate portal - 100
CLIENT INFORMATION
Holika Retail Company is a wholesale cosmetics marketplace.
TASKS THE CLIENT CAME WITH
At the time of contact, the company was using the corporate portal only for tasks and initial processing of leads.
The main tasks were to ensure integration with 1C:UT and normalize the database of contacts and companies.
IMPLEMENTATION PROCESS, PROJECT FEATURES
Together with the client's 1C specialist, we carried out work from Bitrix24. We prepared a Rest integration interface and supported the loading of initial data from 1C. To do this, we normalized the database of contacts and companies and removed unnecessary custom fields and duplicates.
One of the key points was that Holika Retail works with clients who have a main company and branches. Using company card objects and details, we maintained this hierarchy.
To bring the fields in line with 1C, we expanded the table of commodity items in transactions and added custom fields "Barcode", "Article", "Discount price".

We set up the business processes "It is necessary to create a counterparty in 1C", "It is necessary to create an agreement in 1C", which allow you to manage the integration.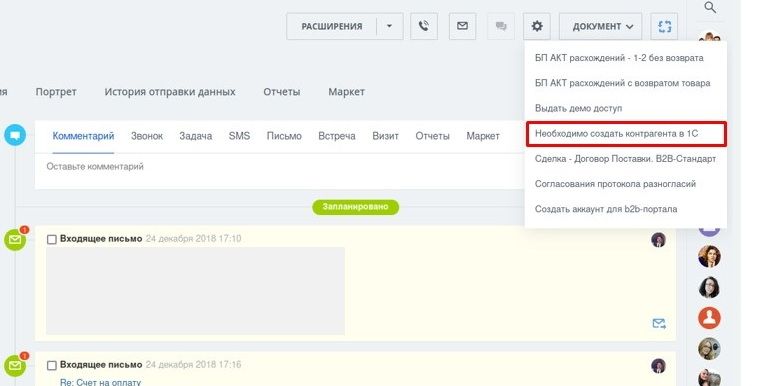 WORKING WITH THE SOLUTION. RESULTS ACHIEVED
We have completed our tasks. Employees work daily in Bitrix24, they do not need to switch between interfaces and manually transfer information, and new fields allow them to conveniently navigate products.
The preserved hierarchy of clients eliminates unnecessary actions by managers. We carried out monitoring, deployed a test portal and connected it to the version control system. We regularly update and solve problems related to setting up CRM.
BENEFITS FROM IMPLEMENTATION
Thanks to the integration of Bitrix24 and 1C, convenience has significantly increased and order processing time has also been reduced.