Trading house "Kitchen without borders"
Integration of Bitrix24 with 1C:ZUP, business processes for HR
Field of activity:
Manufacturer of fast food products
Bitrix24 version:
1C-Bitrix24: Corporate portal - 250
Link:
https://kbg-food.ru
CLIENT INFORMATION
Trade House "Kitchen Without Borders" is a large manufacturer of instant food products.
WHAT PROBLEMS DID THE CLIENT COME WITH?
At the time of contact, the client already had a corporate portal.
It was necessary to implement a number of HR tasks also related to the integration of Bitrix24 with 1C:ZUP in 2 directions:
synchronization of employee cards;
accounting for authorization on the portal via LDAP AD - integration should not have broken this model.
IMPLEMENTATION PROCESS, PROJECT FEATURES
We took the portal for maintenance, connected it to the Gitlab version control system and deployed a test copy of the portal.
We synchronized users through custom development using the Bitrix24 Rest API and set up business processes on the portal:
checking vacation balance;
registration of sick leave;
other special types of absences.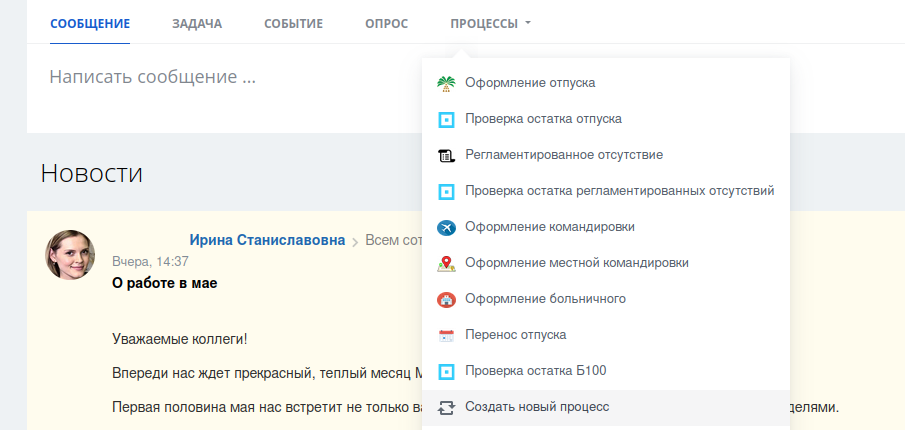 When we started integrating Bitrix24 with 1C:ZUP, we tried to use the standard synchronization module that Bitrix24 itself provides. But in the process, in agreement with the customer, we decided to use our own custom synchronization because we wanted more flexibility, opportunities to transfer various fields and control.
Together with the client's 1C developers, we set up an integration that, after the business process has been approved in Bitrix24, transmits information with details about the absence to 1C. Next, the corresponding documents are created on the 1C side: application for leave, order for leave, etc.
We demonstrated and described this process on our YouTube channel
WORKING WITH THE SOLUTION. RESULTS ACHIEVED
We have set up a number of business processes for the HR department.
We implemented synchronization between Bitrix24 and 1C:ZUP with the ability to create various HR processes and documents.
ADVANTAGES
Thanks to the synchronization of Bitrix24 and 1C, more control has appeared; now there is no need to use third-party components.
The process that is running on the portal is also displayed in 1C. It has become more convenient to arrange vacation, sick leave or business trips; these processes are now automated.
Employees work daily in Bitrix24.