Döke Extruzhn
Finalization of the product request card, optimization of the contract register report
Field of activity:
Manufacturer of materials for country house construction
Bitrix24 version:
1C-Bitrix24: Enterprise
Link:
https://www.docke.ru/
CLIENT INFORMATION
The DEKE company is one of the leaders in the Russian market of manufacturers of materials for country house construction.
WHAT PROBLEMS DID THE CLIENT COME WITH?
At the time of contact, the client already had the Bitrix24 Corporate Portal.
It was necessary to correct the "Register of Contracts" report and finalize the task card for the application for layout design.
IMPLEMENTATION PROCESS
We connected Bitrix24 portals to the Gitlab version control system.
We improved old developments that were slowing down the work and brought the portal into a working state.
Configured correct data in counterparty cards.
We fixed the "Register of Contracts" report; it was working slowly due to heavy queries to the database. We have optimized them.
We differentiated the visibility of contracts depending on the department and user group.
We finalized the card for applications for the release of marketing products. Added new elements:
category (outdoor advertising, printing, web and mobile devices, media, design of retail outlets, other);
desired production time (date);
dimensions, technical fields;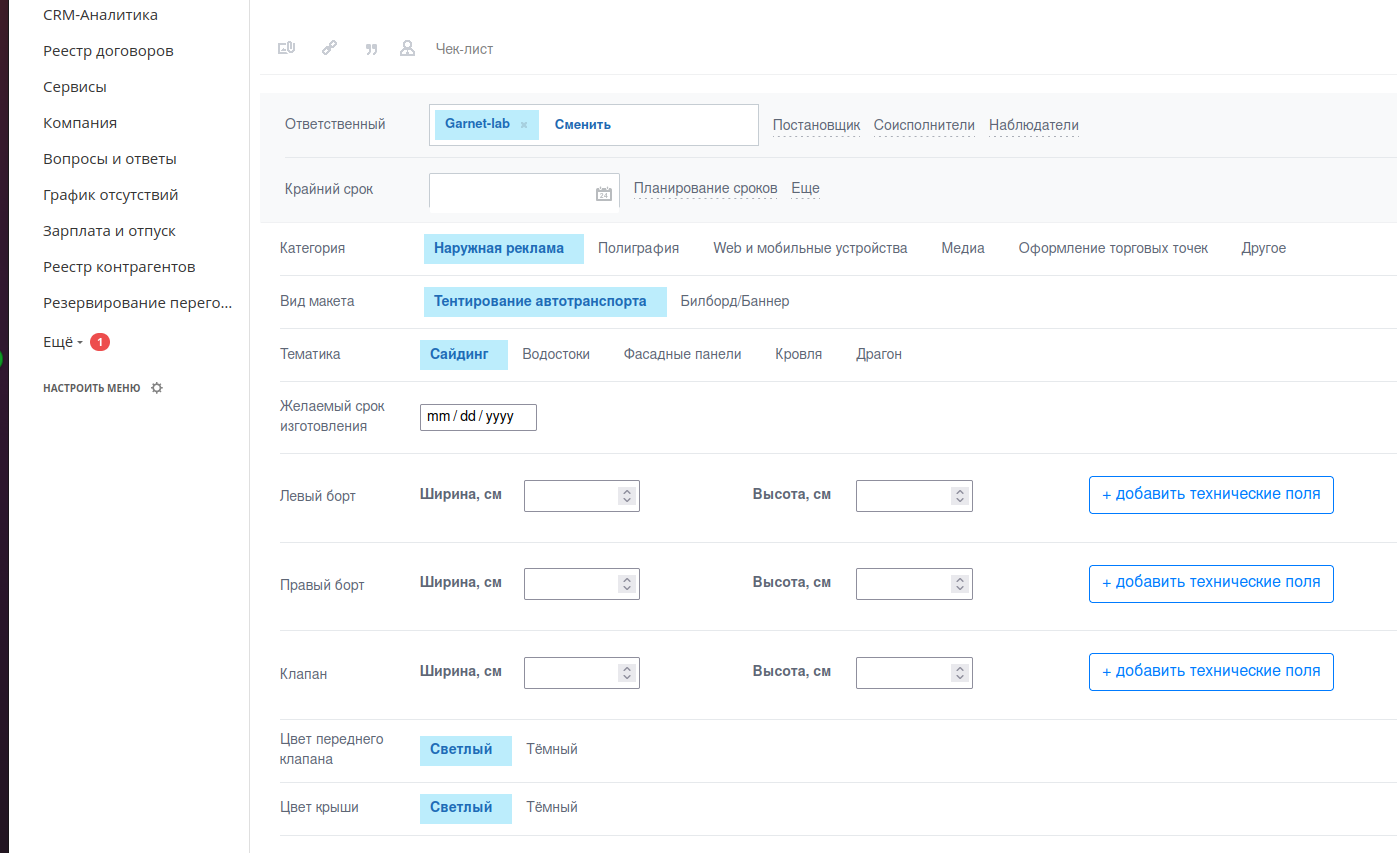 WORKING WITH THE SOLUTION. RESULTS ACHIEVED
An improved card for processing requests for marketing products allows employees to quickly place an order, selecting the necessary elements without unnecessary comments.
Groups of users from different departments (such as accounting, development department, purchasing department, warehouse and transport logistics department and others) receive unique access to contracts.
ADVANTAGES
New developments with custom fields and a register of contracts have significantly improved the work of different departments with contractors.