Inex
Implementation of a lead distribution mechanism, reporting, bug fixing
Field of activity:
Valuation, expert and legal services
Integrations:
Wazzup, Yandex 360, Outlook
Bitrix24 version:
Cloud: Professional
Link:
https://inex.company/
CLIENT INFORMATION
The INEX company provides assessment, expert and legal services to clients from Moscow, both in the form of consultations and at the stage of judicial settlement of disputes. The company has all the approvals and competencies to conduct an independent examination, determine the technical condition of objects, the amount of damage, wear and so on.
TASKS THE CLIENT CAME WITH
At the time of contacting us, the company already had Bitrix24, which employs specialists from different departments. The total number of employees on the portal is 80 people.
The main tasks were: automating new and improving existing processes, as well as performing regular administrative tasks.
Before starting work, we held a meeting with TOP managers and company management, read the documentation, performed analytics on the portal and studied all the nuances of existing settings.
We prioritized the tasks and began to solve them:
1. Adding employees, setting up roles and granting access rights
2. Finalization of reports
3. Training employees to work with filters in CRM and in tasks, call analytics
4. Development of new and expansion of existing processes:
implementation of a mechanism for distributing leads between sales department employees
auto-filling of the Lead Source, depending on different initial values
5. Bugfixing existing settings and transferring webhooks to the company server
IMPLEMENTATION PROCESS, PROJECT FEATURES
The main work was focused on working with process automation and generating reports, but before that it was necessary to make settings for CRM.
CRM
We added new employees to the portal, created roles (positions) for them, and distributed access rights
We created new stages and fields in transactions.
With the help of robots, we set up automatic assignment of tasks at certain stages of transactions, added employees to tasks as observers to monitor the completion of tasks, and automatic assignment of Responsible Employees. And after the successful closing of the transaction (sale of services), a transaction is created in the direction of Legal services with a fixed cost, which is then handled by the legal department.
Added mailing lists (WAZZUP, e-mail). At a certain stage of the transaction, various messages and notifications are sent to the client.
REPORTS
The company had already set up some reports; additions needed to be made to them.
WHAT TECHNICAL CHALLENGES DID YOU HAVE TO FACE?
Bitrix24 does not allow you to edit previously created reports, so we created them again with new settings.
LOADING APPRAISERS
The problem was that not all appraisers were shown in the report.
We have updated the list of appraisers and the number of unique open transactions that he conducts.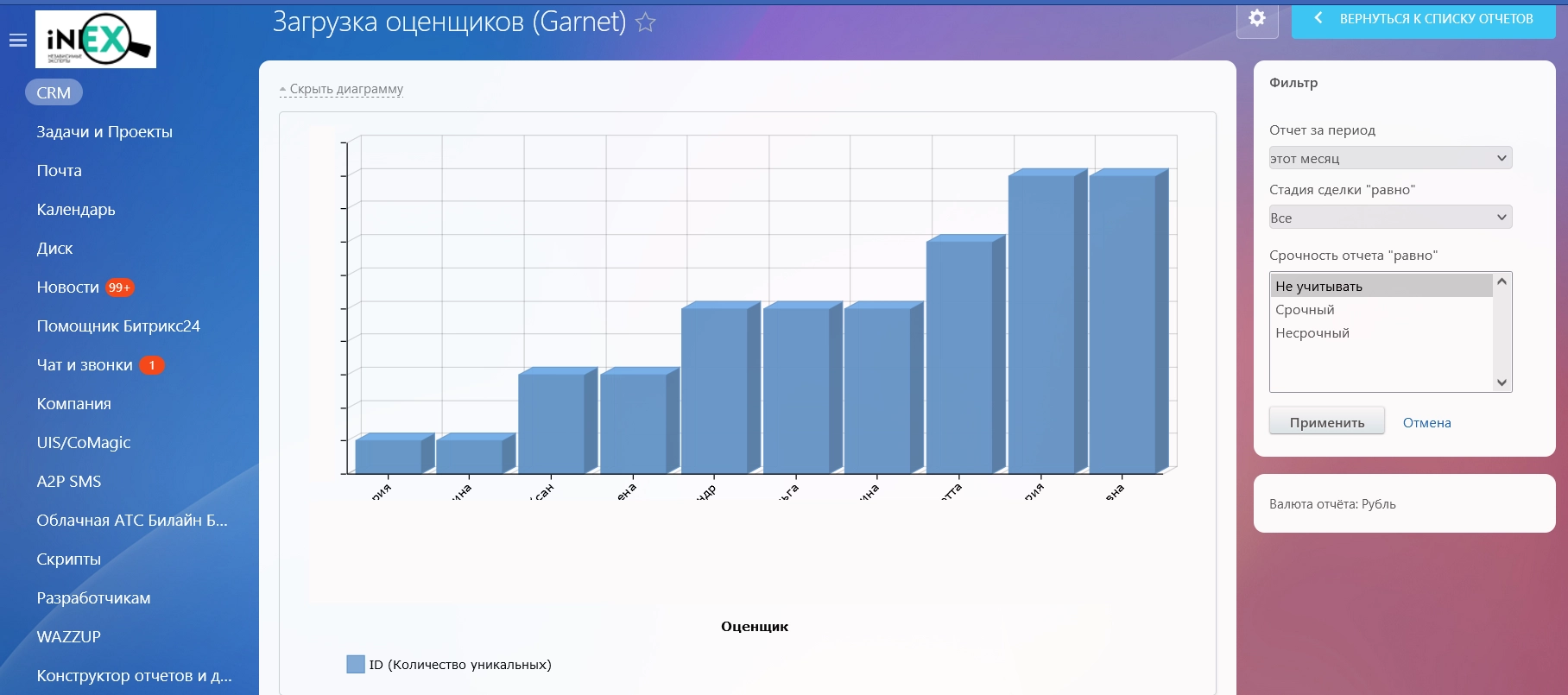 COST BY TYPE OF WORK DONE BY APPRAISERS
The report shows which objects the appraisers worked on, the amount and, if the object was handed over, what date.
NUMBER OF TASKS FOR APPRAISERS
In this report, the manager sees the number of tasks of his subordinates.
We've added a filter that limits results to certain conditions.
TASKS OF APPRAISERS WITH STATUSES AND DEADLINES
Answer for the head of the appraiser department. Allows you to monitor current tasks and helps ensure they are completed on time.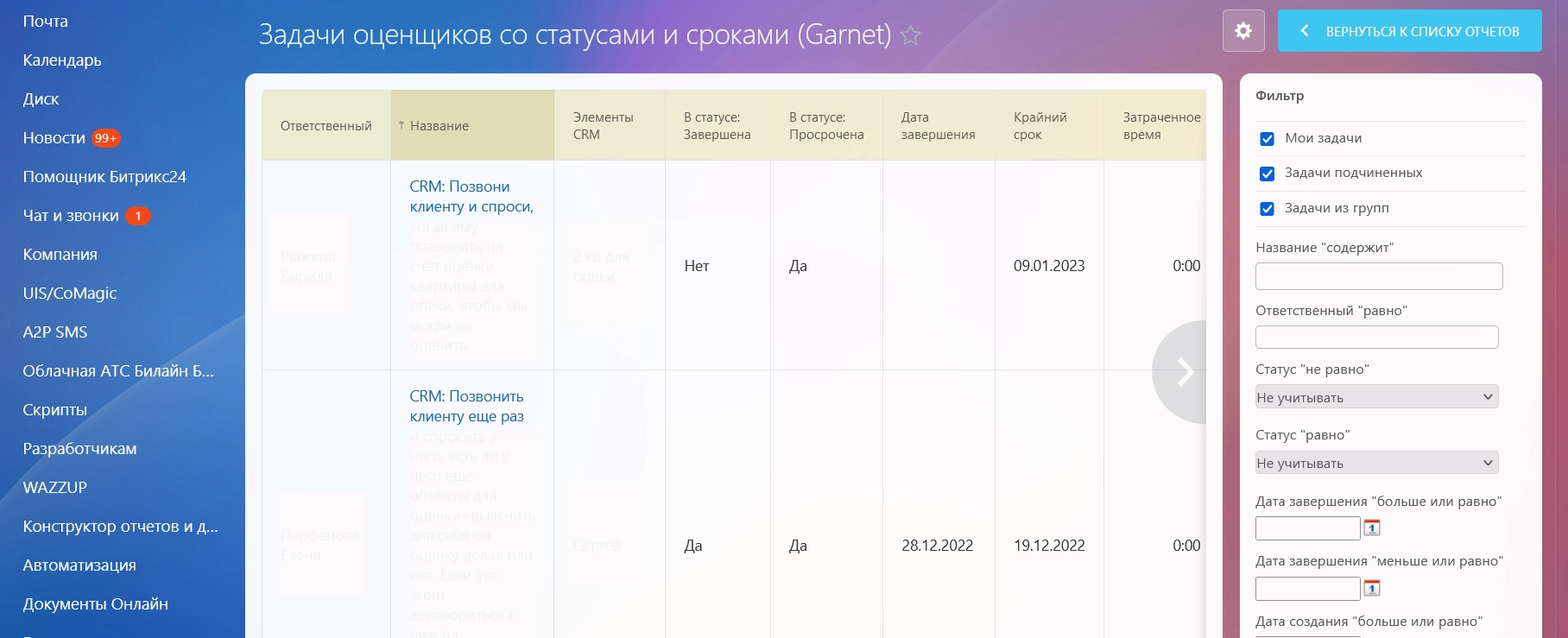 We gave access to all reports to department heads.
TRAINING
Conducted training for the sales and marketing department. They showed how to use filters in tasks and CRM to view the most accurate summary of deals and leads for a certain period.
Training for managers was in the analytics section and call distribution.

BUSINESS PROCESSES
TRANSACTION NUMBER
Every customer request is a transaction in CRM. This includes orders for services from different areas: assessment, examination, insurance, legal services, etc.
We have set up sequential numbering of transactions, which is assigned automatically with each new order. This number also goes into the transaction documents, which makes working with it very convenient.

And since there can be a large number of such transactions per month, we have added a setting, and every 1st day the counter starts again from 1.
DISTRIBUTION OF LEADS BETWEEN SALES MANAGERS
The sales department has 4 managers who process incoming requests.
We have set up a process that, when a new request is received, changes the Responsible Manager every 5 minutes until it is taken on by one of the specialists.
This setting excludes transactions that were created manually. In them, the responsible manager remains unchanged.
For repeated requests, a check is triggered and it is assigned to a manager who has previously worked with this client.
BUGFIXING
We transferred webhooks from the previous contractor's server to the company's server.
Solved the problem of distributing leads via a webhook.
WORKING WITH THE SOLUTION. RESULTS ACHIEVED
On the portal, all employees work very actively in CRM, which is associated with various processes and robots. Managers conduct transactions and communicate with clients. A system for setting and monitoring tasks has been established. Deadlines are set for tasks, and observers from the control department are added. Managers monitor the workload of their subordinates and conduct call analytics. At any time, they can generate an up-to-date report to analyze the work process and monitor employee performance.
BENEFITS FROM IMPLEMENTATION
Thanks to process automation, all employees have a clear understanding of tasks and what needs to be done, motivation to work has increased, and incoming requests are promptly processed. Managers have an understanding of which source provides more leads, how many transactions are in progress, and the workload of each employee.