Автор статьи
Глеб Антоненко
Often in their work, managers are faced with routine tasks that take up precious time and effort. One of these responsibilities is the creation of commercial proposals (CPs), a process that may seem mundane, but when examined in detail, it consumes a significant portion of the workday.
Every time a proposal needs to be developed, managers are forced to manually enter information, copy products, set prices and quantities, and keep track of other details required for the proposal. These various manipulations limit the ability to effectively manage proposal versions, especially if customers are presented with different CP options. This approach not only increases the likelihood of making mistakes, but also slows down the entire process.
Moreover, the complexity of analyzing rejected proposals in order to optimize sales strategy should not be underestimated. Together, these factors create a situation where managers and the company as a whole are faced with the loss of valuable time and resources.
In this article we will look at how you can optimize the process of creating a business proposal and free up time for business development. We will present a solution that will significantly simplify and improve control over CP versions and make data analysis more accessible.
With this tool in the Bitrix24 system, you can focus on strategic business development and reduce the burden of routine.
The process of creating a commercial proposal
A commercial proposal is an element of the CRM system in Bitrix24, which contains information about the company, goods and services, as well as a proposal for cooperation. This is the next stage of interaction with the client after creating a deal.
An Offer is created using the button in the deal card: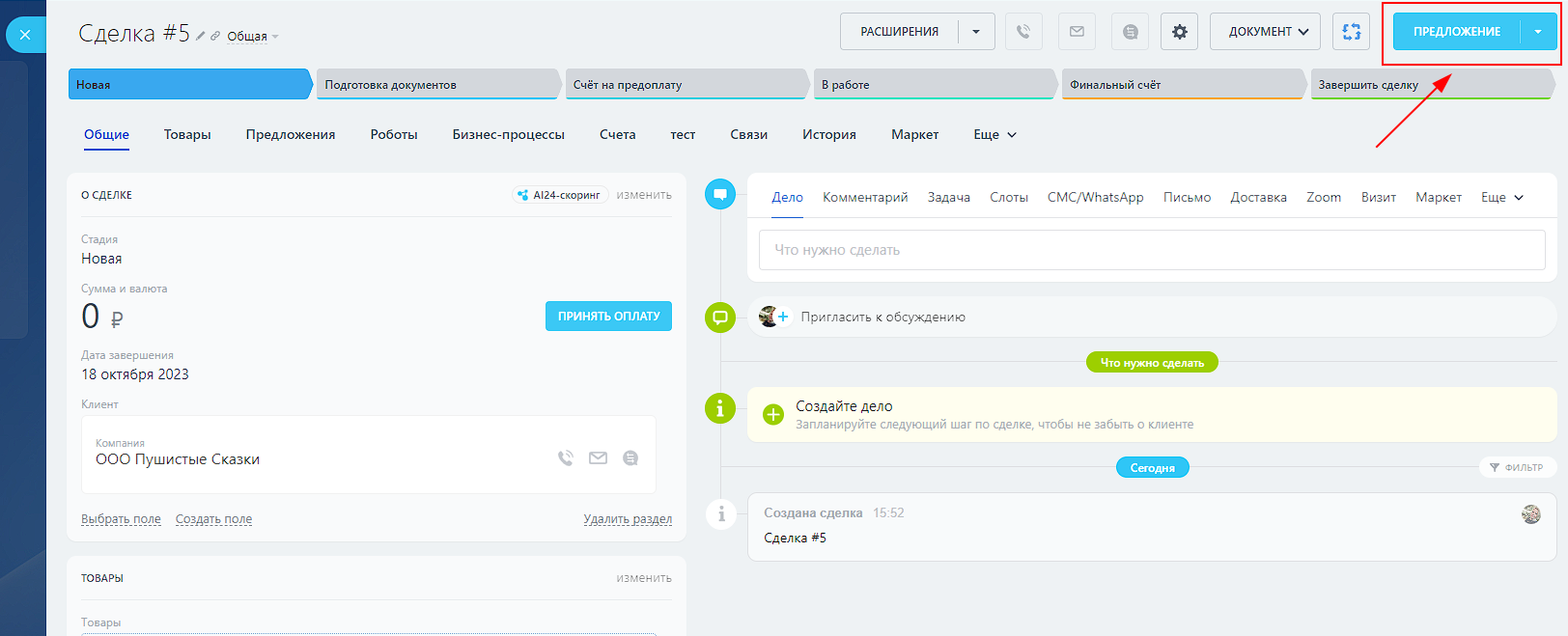 All commercial offers submitted as part of the current transaction are available in the "Offers" tab. This is a convenient tool for monitoring and managing them. Here you can easily track the number of offers, their statuses and client decisions on each of them. This provides transparent monitoring of the entire transaction process and allows you to know which offers were accepted and which were rejected.

Let's fill our Offer with goods.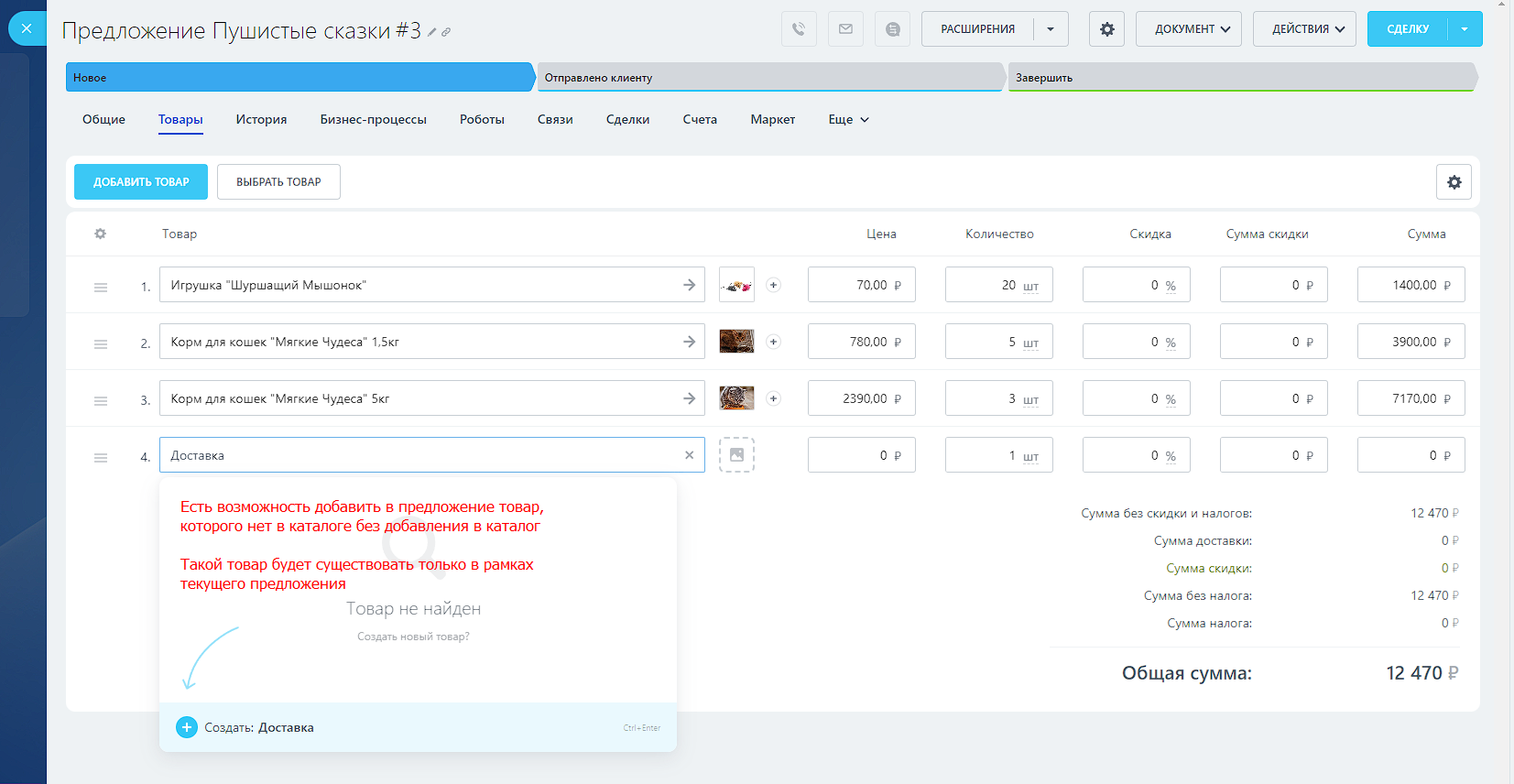 Then we will generate the CP document from the template

Bitrix24 provides built-in commercial proposal templates.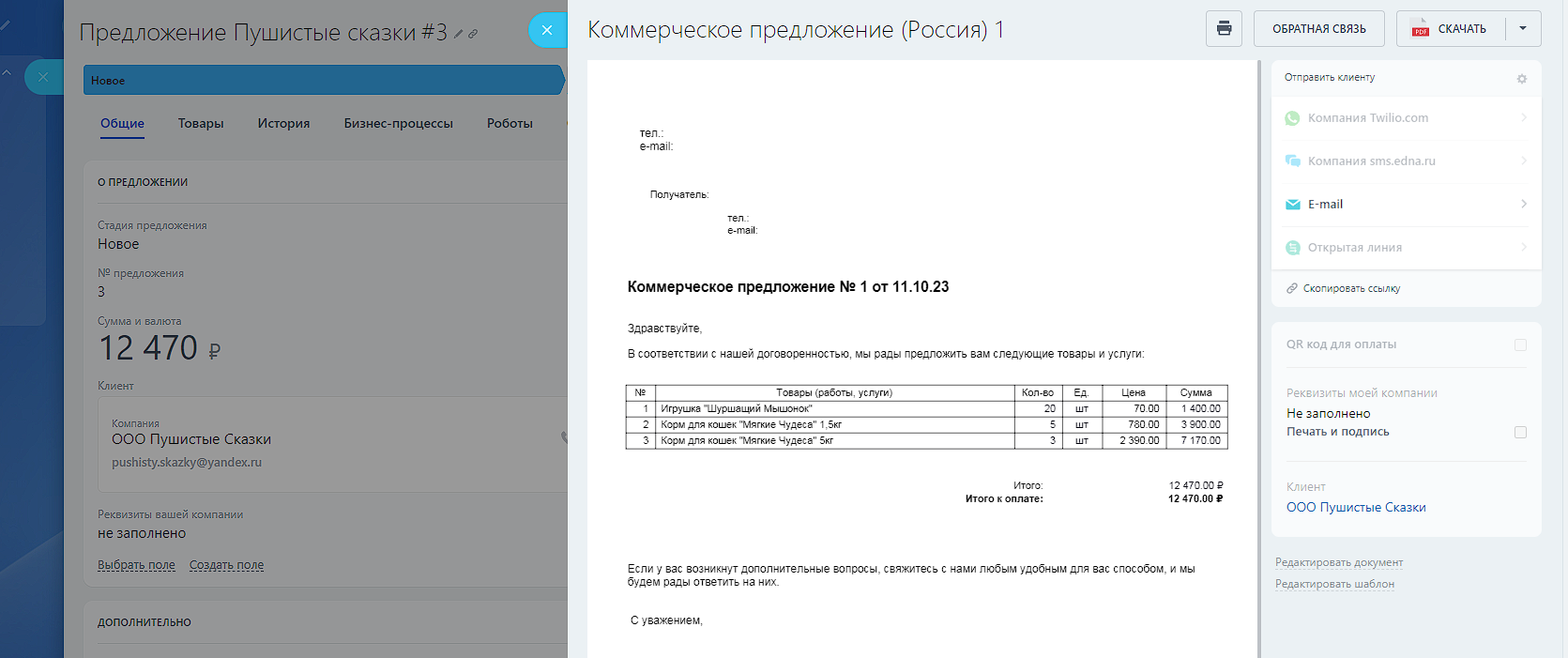 However, it is possible to customize your own template in a corporate style and add all the necessary information to it.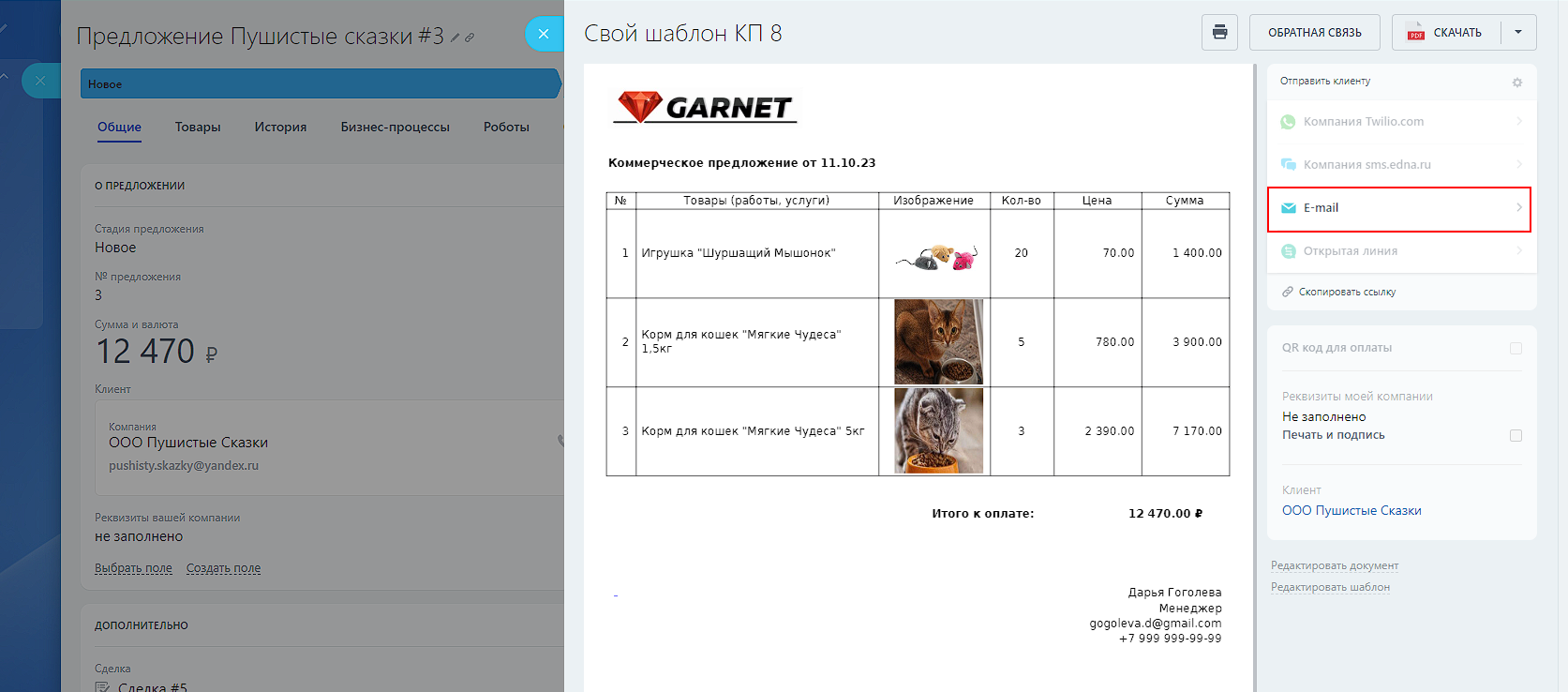 After generation, you can send a commercial proposal to the client by email (if it is connected to Bitrix24).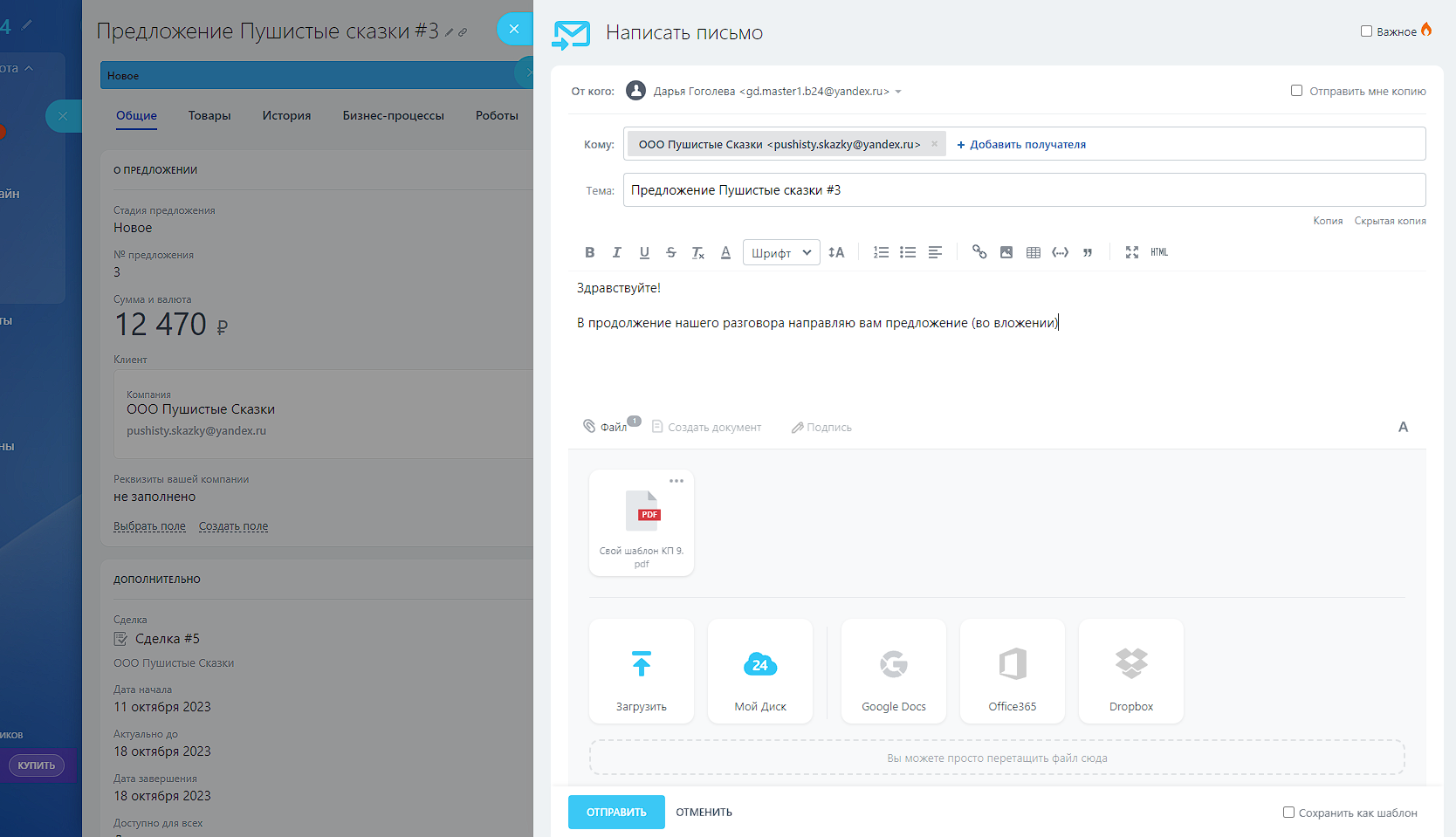 Adding automation can make the process even more efficient.
For example, after sending a letter, the offer card automatically moves to the "Sent to client" stage.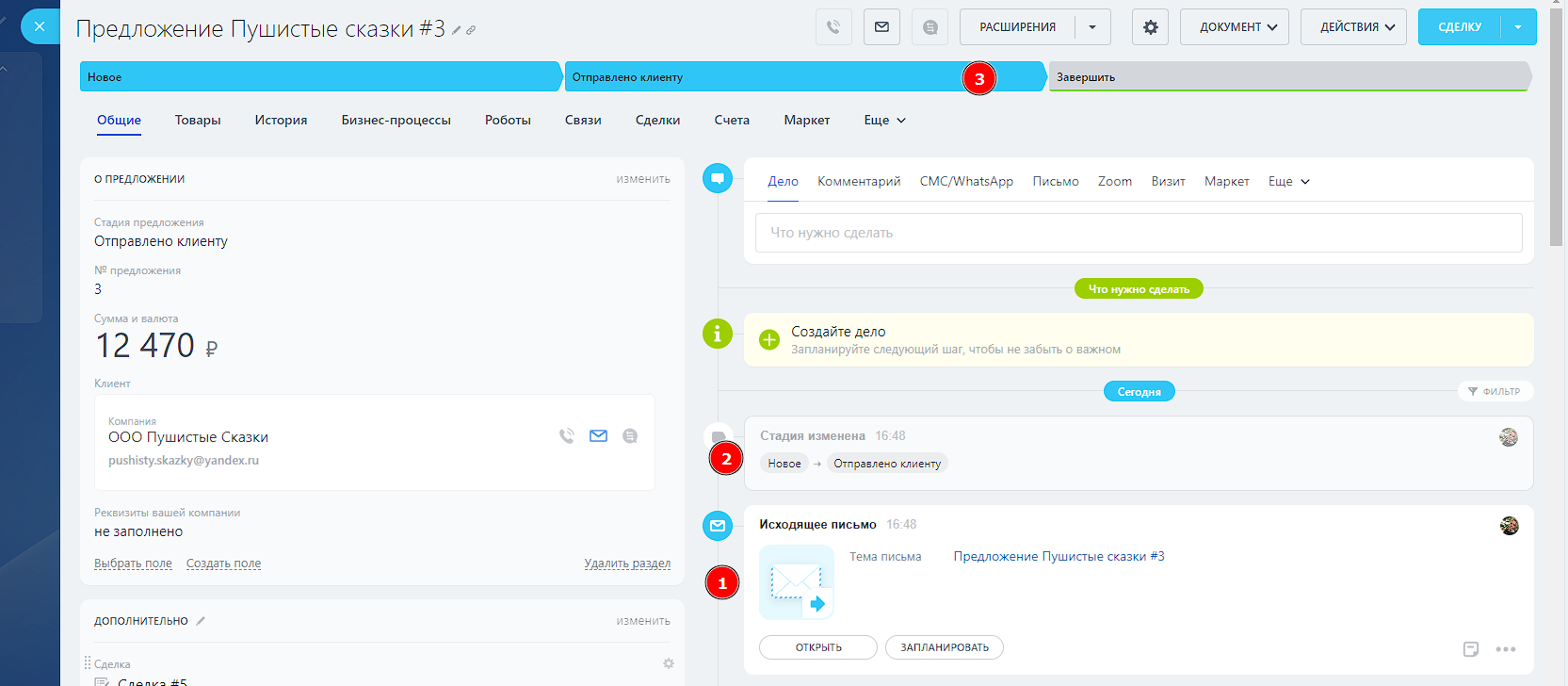 When the client gives a positive answer, the proposal is transferred to the "Accepted" status. Next, products from the offer are automatically transferred to the deal.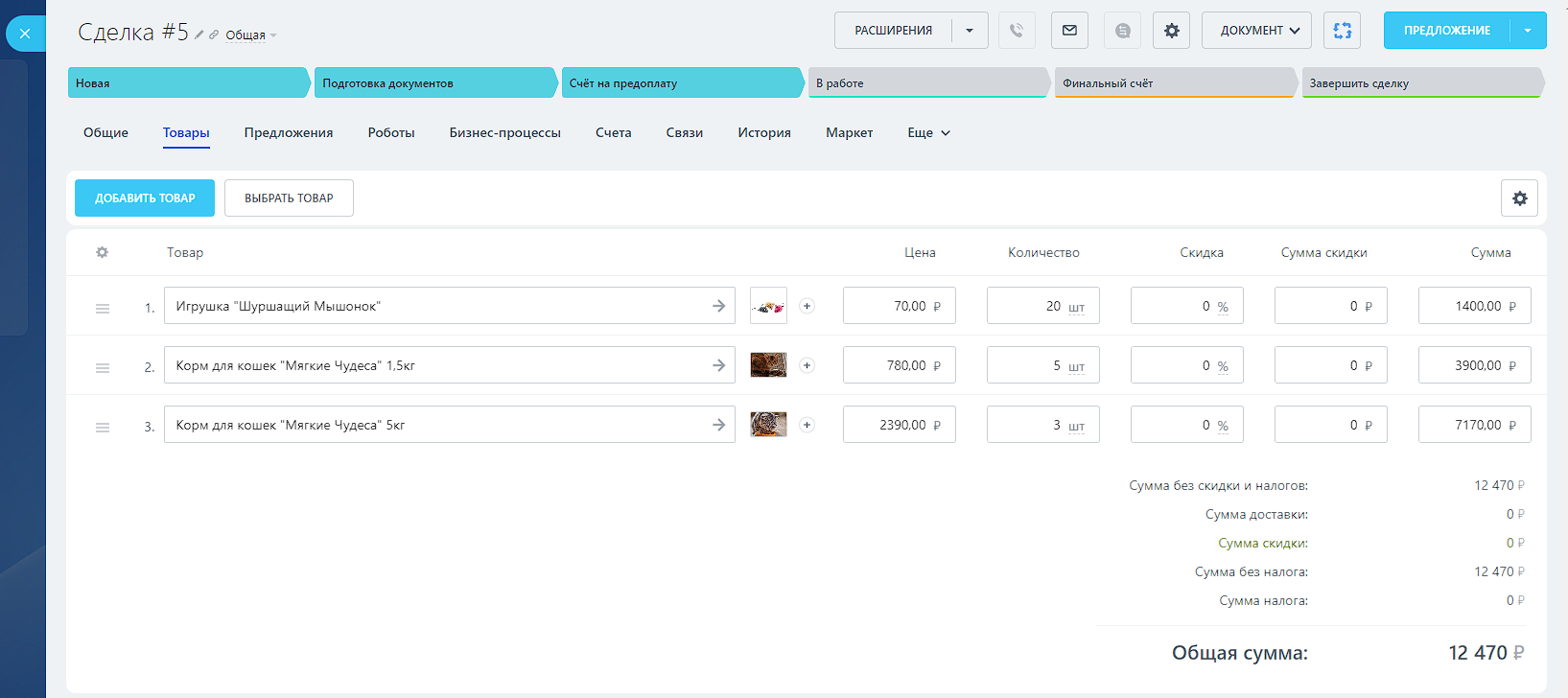 Now you know exactly which offer the client accepted, and you also have the ability to analyze rejected offers and adjust your sales strategy.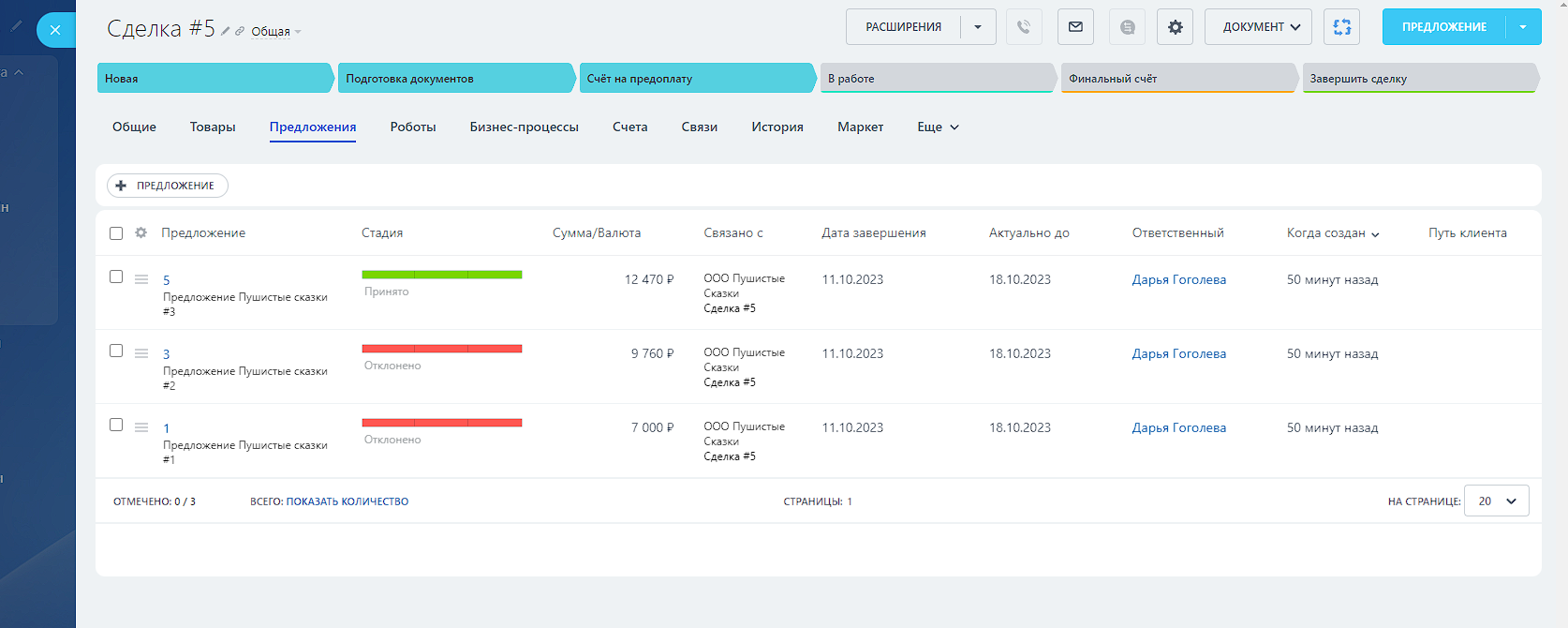 Advantages
Effective transaction management

: The ability to create, track and analyze offers within transactions allows you to work more effectively with clients, control the status of offers and client decisions.
Quick creation of CP

: The document generator speeds up the process of creating commercial proposals, which is especially important when promptly responding to customer requests.
Flexibility in customizing templates

: You can use built-in templates or create your own, allowing you to tailor proposals to the unique needs of your company and clients.
Easy sending and monitoring

: Ability to send offers to clients directly from Bitrix24, easily track offer statuses and client responses.
Automation

: The introduction of automation allows you to optimize processes, transfer proposals between stages and increase the efficiency of working with clients.
Analysis and optimization

: You can analyze the effectiveness of your offers and improve your sales strategy, which contributes to business growth.
Have questions
or need to find a solution
to Your

problem?
Leave a request by filling out the feedback form. Our expert will contact you as soon as possible