Автор статьи
Глеб Антоненко
Telegram connection options
There are 2 options for connecting Telegram:
Through

chat bot

. This method is free.
Connecting a work number

(for a manager) through the additional programs Wazzup and Pact, which require a monthly payment according to the tariff.
Let's take a look at both connection methods and how they work.
Chatbot
A chat bot is preliminarily created in Telegram. Its connection and configuration is carried out in the Bitrix24 Contact Center section.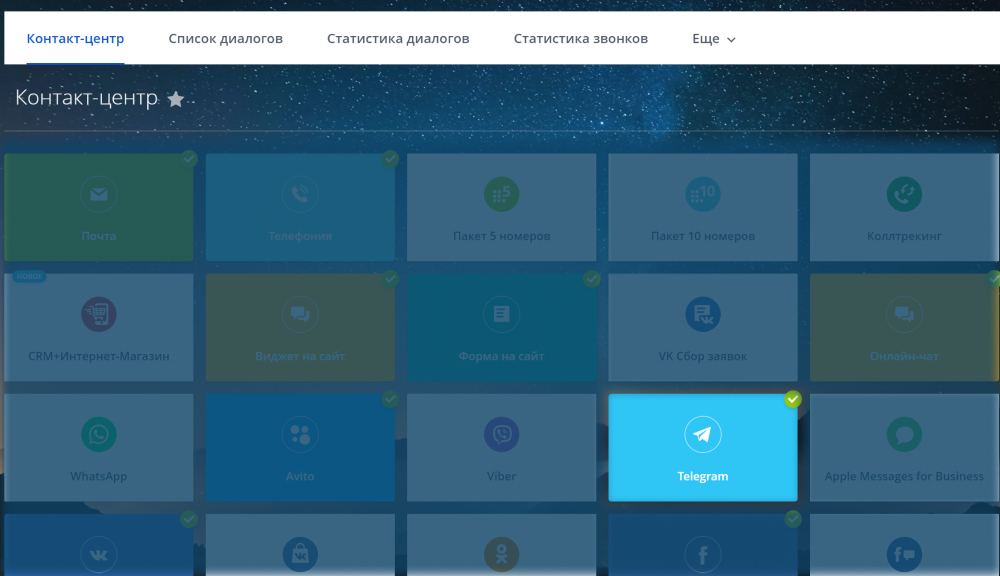 The site hosts a widget where the client writes his question. Visually, for him, it looks like a familiar chat in Telegram.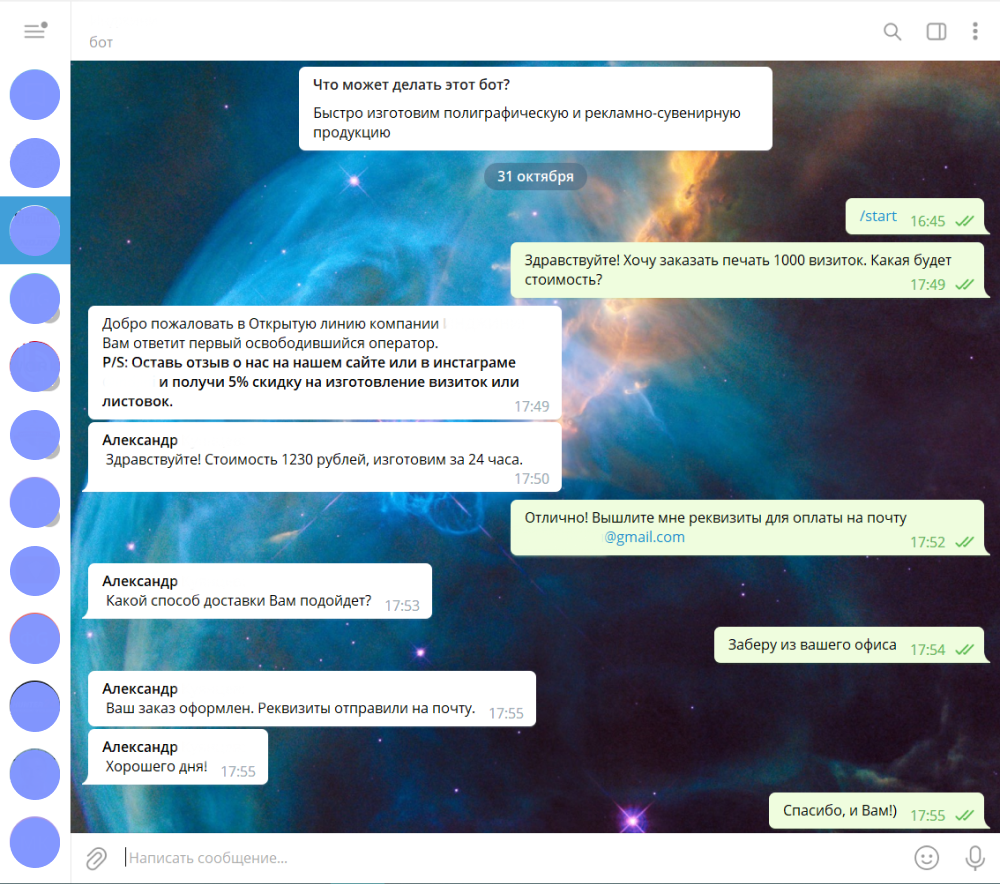 The manager sees the message in CRM in the open line chat and replies to the client. At the moment of contact, a lead is automatically created.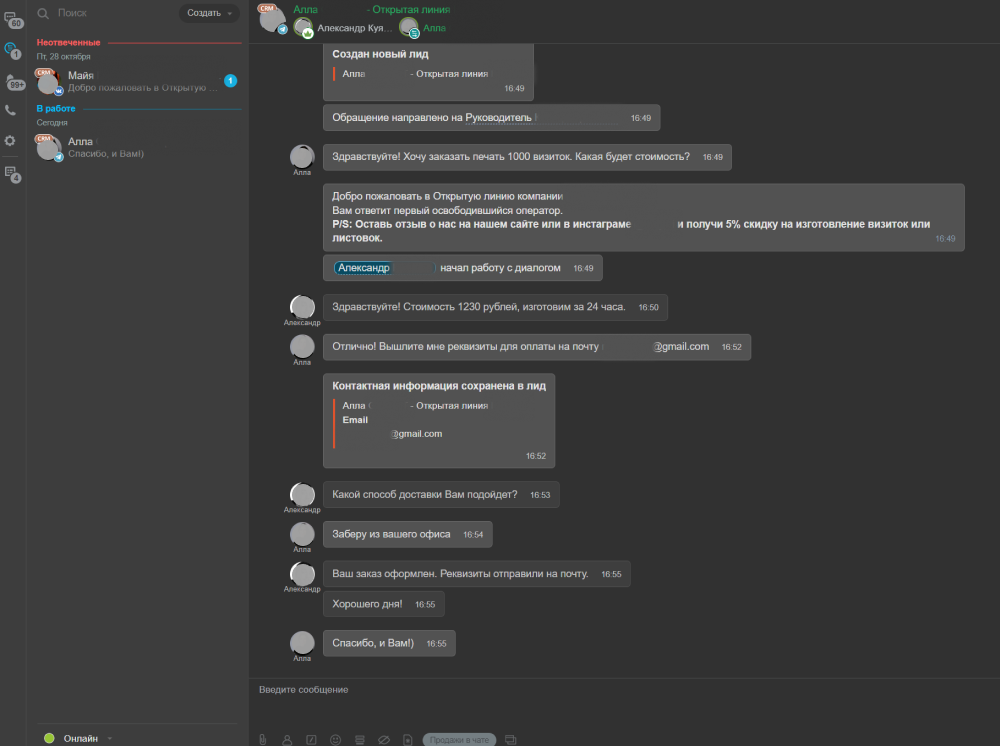 The phone number is not passed to the lead, regardless of the privacy settings in the client's account.
After placing the order, the manager transfers it to work. In kanban, you can track all orders by stages.

When connecting with this method, the manager cannot write first, only
incoming
line. The chat remains active 24 hours from the last message. If there were no new messages during this time, the chat is automatically closed.
Telegram work number
Connecting a personal Telegram number assigned to the manager through the application makes it possible not onlyreceive incoming calls, but alsomake outgoing (for example: promotional mailings, reminders, sending order statuses, etc.).
In both cases, a lead is created on the portal.
inboxfrom leads and clients to a Telegram number look similar to a Telegram bot: the client writes to the Telegram chat, and the manager replies from the Bitrix24 open line.
outgoingthe line is available to the manager for sending messages: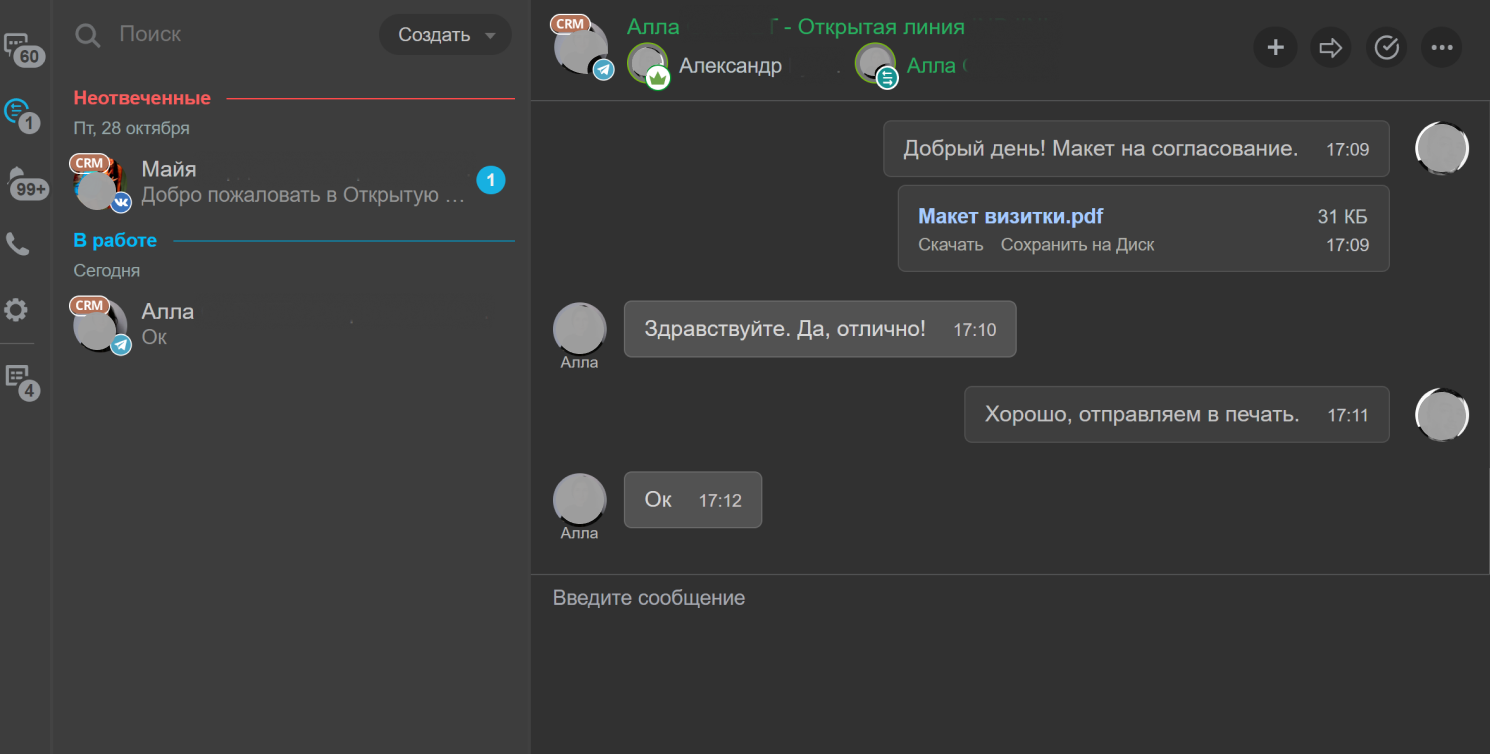 In the Pact and Wazzup programs, a personal Telegram account is configured separately.
Benefits of integrating Telegram with Bitrix24
It enables:
✅ receive messages from clients in CRM Bitrix24 and instantly respond to them;
✅ evaluate the quality of the dialogue, collect statistics and analyze the effectiveness;
✅ track the response time to a client request and other KPI metrics;
✅ set up a queue for distributing dialogs to managers in different departments;
✅ set up working hours and a script for sending auto-replies.
If necessary, you can set exceptions, for example, if a client has an assigned manager, the dialog will be redirected immediately to it. The manager can also redirect the dialog to another employee or connect the employee to the current dialog.
Have questions
or need to find a solution
to Your

problem?
Leave a request by filling out the feedback form. Our expert will contact you as soon as possible